On Shaun Tan's The Arrival.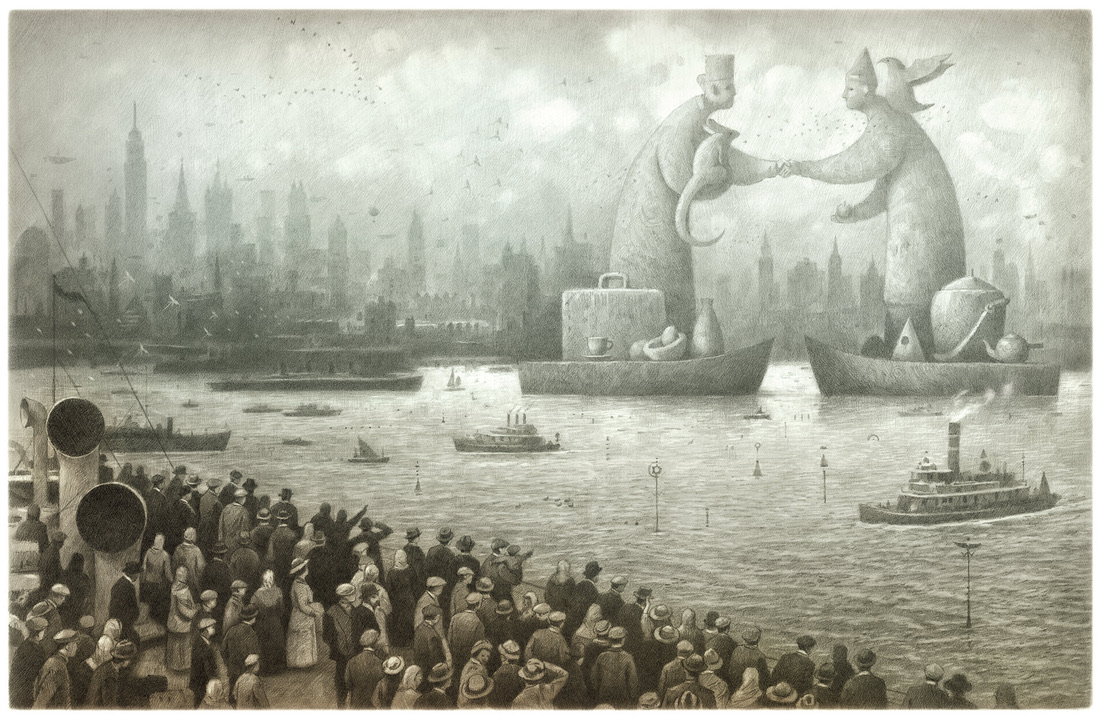 Thursday night, December 3, we held our last Battle of the Books for 2020. I'd like to share some thoughts about one of the books that was championed (by Kiera Parrot, of the Darien Public Library): Shaun Tan's The Arrival.
 
Tan is an artist-storyteller, creator of some of the most imaginative and mind-enhancing picture books I know. A couple of years ago, the Financial Times profiled him on the occasion of the publication of The Singing Bones, an art book showcasing his papier-mâché sculptures inspired by fairy tales of the Brothers Grimm. Exploring Tan's resort to sculpture for the project, the author of the profile invokes the words of Philip Pullman, who, in his introduction to his own versions of Grimm's tales, 
 
cautions against illustration, suggesting that it can run counter to the spirit of works in which description and characterisation must nearly always give way before the electric pace of the narrative.
       "I think he's absolutely right," says Tan. "The stories are a bit like the shadows in Plato's cave. They're two-dimensional and flat: it's a witch, it's a boy, it's a prince, it's a princess. But I like the challenge of illustrating a text that kind of says, 'Do not illustrate me'. I realised I couldn't use my traditional illusionistic representational style; it would have to be something stylised but also extremely simple, something that wouldn't interfere."
 
The linkage of Tan to Pullman interested me, for some years earlier I connected the two of my own accord. It started with an interview with Pullman I conducted in 2007, during which the author of The Golden Compass said: 
 
Stories can be presented in the form of words, but they can also be presented in the form of pictures. . . . Whatever stories are made of, words aren't fundamental to it. Something else is. And what I think is fundamental to the narrative process is events—stories are made of events.
 
As if to illustrate Pullman's point, Tan's The Arrival came across my desk a few days after our conversation. This stunning volume chronicles—in a wordless pictorial narrative—an immigrant's parting from his family and journey toward the future in a new land that is simultaneously ominous and hopeful. Told in drawings of varying sizes—sometimes there are twelve panels to a page, sometimes four; there are many full-page images—Tan's tale juxtaposes the realistic with the phantasmagoric, giving shape to both the mundane material needs and the psychologically charged emotions of immigrant experience. Isolation, fear, want, sympathy, amity, joy—all are rendered palpable by the author's enthralling visual invention. Tan composes an imaginative landscape in which the uncertain bravery of an immigrant's journey is seen in its true grandeur; best of all, the artist creates a mesmerizing and mysterious "bookscape" in which readers young and old (and the older you are, I venture, the richer the experience will prove) can wander again and again, poring over details, elaborating events, fashioning narrative destinies, discovering new worlds. I've been thrilled to return to it this week, for its generosity greets experience, even in the face of adversity, with a welcome and a wonder that are in short supply in the nearsighted vision of 2020.
< Back to Reader's Diary