Booksellers on the Seine, in the shadow of a cathedral.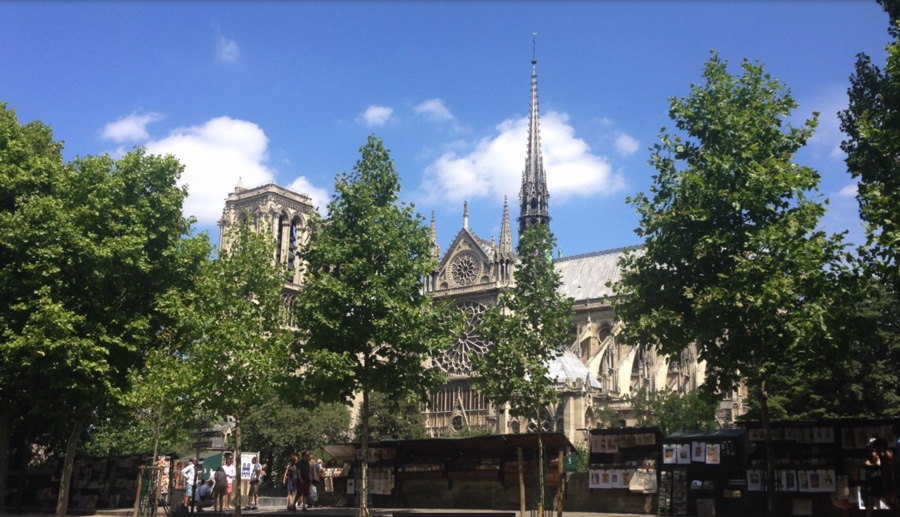 Nearly forty years ago, in the first flush of our romance, Margot and I sat at a restaurant table looking out on a scene that had been more or less unchanged for centuries. From where we were perched on the Quai de Montebello, on the Left Bank of the Seine, we gazed up at Notre-Dame de Paris, the medieval cathedral that loomed over time and the city from its sacred purchase on the Île de la Cité. It was my first time in Paris. I'd arrived from an archaeological dig in Carthage—once home and hub of an ancient civilization, then, and still, a seaside suburb of Tunis, capital of Tunisia. Margot, who'd lived in Paris for a spell after her college graduation, had flown from New York for an unexpected rendezvous, which she'd announced via a telegram that had summoned me to the dusty Carthaginian post office from the even dustier excavation site on the harbor. Romantic, as I say: we both had heart—and, as pictures reveal, hair—to spare back then.
 
If our eyes left each other to frolic in the imaginative articulation of the cathedral's faithful stone, ascending to the heights of the spire before falling down across the tracery and mullions of the windowed rose that intimated an interior light and color we could not see from our worldly seats, our gaze would eventually come to ground on the quai across from our outdoor table, where a row of shadowed book stalls might come into momentary, inadvertent focus. (The picture above, which I've pulled from the website of the still extant restaurant, Le Montebello, illustrates the view). These open-air book shops were the precincts of les bouquinistes, the booksellers who take their name, and the centuries-old traditions of their trade, from the sixteenth-century peddlers who trafficked in small secondhand volumes called bouquains on the Pont Neuf bridge. So I read recently in the New York Times, in an article by Liz Alderman, where I also learned that the picturesque riverside bookselling was was given permanence, like so much else, by Napoleonic decree in the early nineteenth century, "popularizing the bouquinistes and making them magnets for students, intellectuals and writers like Honoré de Balzac." A recent accounting puts the number of booksellers at more than 200, the number of stalls under their purview at 900, and the number of volumes in them at around 300,000.
 
But like their bookselling counterparts around the world, les bouquinistes are under siege, their businesses under threat of extinction. "Even before the pandemic," the Times reports, "the bouquinistes were grappling with the cultural changes that have affected the book business everywhere—like the fact that amid the distractions of technology, people don't read physical books as much as they used to, and if they do, often turn to Amazon to buy them." Add the pandemic, with its urgent upending of urban convention and catastrophic constriction of tourism, and circumstances are bleak indeed, as Alderman discovers: "'We are barely making enough to eat,' said David Nosek, a former sound engineer who has sold classic literature, modern paintings and antique lithographs near the Louvre for three decades."
 
"I never imagined it would come to this," he said, casting his eyes over the empty sidewalk.
       "Still, the bouquinistes have been here since the Middle Ages," he said. "I'd like to think that the coronavirus won't finish us off."
 
The cathedral that provides a majestic backdrop to the venerable, ramshackle book stalls has suffered its own existential peril lately, of course, not posed by plague or pixels, but by fire. The devastating conflagration that broke out beneath the roof of Notre-Dame in April 2019 destroyed its spire and—as flames consumed its record of human enterprise, if not divine inspiration—took the breath of the world away. The imposing Gothic structure, on which construction began in the twelfth century, had grown across the centuries into a symbol of Paris and a preserve of French culture, especially after its renovation in the nineteenth century, a restoration that was a direct consequence of its atmospheric evocation in the pages of Victor Hugo's wildly popular 1831 novel, Notre-Dame de Paris, better known in English as The Hunchback of Notre-Dame.  
 
Hugo's tale of the bell ringer Quasimodo and the gypsy Esmeralda is set in 1482, a few decades after Johannes Gutenberg had introduced movable type to Europe. In the first chapter of the novel's fifth book, the archdeacon of Notre-Dame, Dom Claude Frollo, pointing at a newfangled printed book with one hand and at the façade of the cathedral with the other, exclaims, "Alas, this will kill that." The chapter that follows, for which the the archdeacon's last four words provide the title, is an explication of their meaning, a philosophical interruption for which Hugo apologizes to his readers. Buried in Dom Claude's thought pronouncement, Hugo writes, was "a presentiment that human thought, in changing its form, was about to change its mode of expression; that the dominant idea of each generation would no longer be written with the same matter, and in the same manner; that the book of stone, so solid and so durable, was about to make way for the book of paper, more solid and still more durable." 
 
How more durable? "In its printed form," Hugo explains, 
 
thought is more imperishable than ever; it is volatile, irresistible, indestructible. It is mingled with the air. In the days of architecture it made a mountain of itself, and took powerful possession of a century and a place. Now it converts itself into a flock of birds, scatters itself to the four winds, and occupies all points of air and space at once.
 
And just before that:
 
The invention of printing is the greatest event in history. It is the mother of revolution. It is the mode of expression of humanity which is totally renewed; it is human thought stripping off one form and donning another; it is the complete and definitive change of skin of that symbolical serpent which since the days of Adam has represented intelligence.
 
Somewhere among the 300,000 battered books of the bouquinistes, those words, in their original French, are expiring between their covers like caged birds deprived of light and air. The cathedral watching over them has its own struggles to survive, but may well outlast, through the sheer stubbornness of materiality, the printed winged flocks that once encircled it with the animation of new intelligence. 
 
And it's not lost on me that if I were sitting at a street-side table at Le Montebello today, in the shadow of that damaged yet still glorious Gothic structure, surveying the lonely stalls of booksellers abandoned by browsers as the pandemic shutters Paris's present, thereby imperiling its past, I might well be scanning my phone out of habit, keeping in touch with not much, yet unable to part my attention from it, in the grip of the daily forgetting our time delivers with such infernal ingenuity, speaking in a dialect that has ten thousand words for distraction.
❦
Shakespeare and Company, the celebrated English-language bookstore at 37, rue de la Bûcherie, is maybe a three-minute walk from where Margot and I sat having lunch on the Quai de Montebello four decades ago. The bookshop was opened in 1951 by George Whitman, assuming, with Sylvia Beach's blessing, the name that had graced Beach's shop on rue de l'Odéon from 1919 to 1941, where Gertrude Stein, Ernest Hemingway, and Ezra Pound talked about news that would stay news and whence Beach, with bravery as well as editorial boldness, published James Joyce's Ulysses. Whitman's reincarnation of the enterprise, now overseen by his daughter, Sylvia, has served as an equally thriving hub for several generations of writers, littérateurs, bohemians, expatriates, and tourists. Friends of mine have crashed there for the night, and a young couple I know got engaged there a couple of years ago. 
 
Like the bouquinistes who line the Seine in their increasingly solitary bookishness, Shakespeare and Company is struggling to make ends meet, and, like the Strand in Manhattan, whose pandemic-induced travails I wrote about in an earlier post, it has appealed to its far-flung customers for support through a new membership model that I invite you to consider. Stores like Shakespeare and Company and the Strand are rare in their reach, but thousands of other less celebrated bookselling enterprises are just as beloved by a loyal coterie, for good bookshops are among the very few public spaces that create an environment in which we can engage in an ongoing exchange with ourselves—call it a soliloquy—in ways that honor our interests with an agency, even an indulgence, the rest of the world seldom allows. 
 
"What is culture?" the French philosopher Simone Weil once asked. She was not without an answer, and her response has always struck me as particularly apt: "The formation of attention." To play a role in such formation is, to my mind, the raison d'être of a true bookstore; among its stacks and shelves we pursue private inclinations even as we are encouraged to enter the broader conversation a shared culture makes possible.
< Back to Reader's Diary