A Classical Education, part one.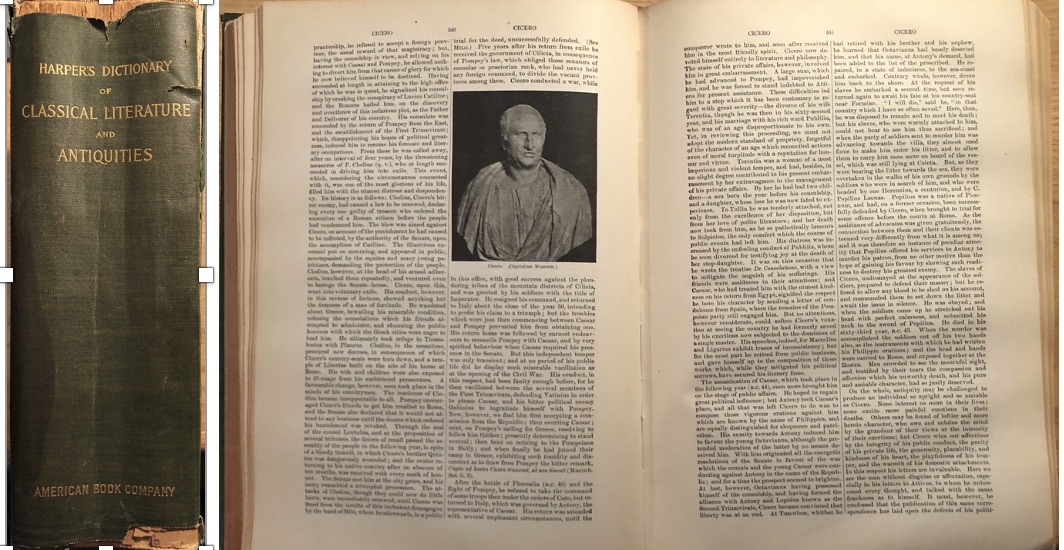 One of the most treasured volumes in my library is one I seldom open these days. In fact, I've only occasionally consulted it in the past decade. It's big: 3¾ inches thick by 10½ tall and 7¼ wide, and bound in green cloth that's been rubbed to an almost silken sheen; that cloth cover is frayed around the edges and at the hinges of the spine. Despite these signs of past use and increasing age, the tome's 1,700+ pages still hold together, flopping flat wherever I open them.
Printed by the American Book Company—offices, per the title page, in New York, Cincinnati, and Chicago—in 1923, this copy of Harper's Dictionary of Classical Literature and Antiquities, edited by Harry Thurston Peck, MA, PhD, Professor—again as announced on the title page—of the Latin Language in Columbia University, was "copy 12" in the Fordham Prep School Library, as indicated by the proprietary stamp and other library accouterments found inside the front cover. Its being the twelfth copy catalogued, one might imagine, speaks of the generations of Latin and Greek scholars in attendance at my Jesuit alma mater in the long decades before I arrived on its Bronx campus to begin my own classical high school education in 1969, in what was likely the last era in which "classical" invoked a fundamental discipline rather than a fond but fading tradition, as it would soon and, in coming decades, increasingly become for the school and—of lesser but more relevant import—for me.
But the library stampings are somewhat misleading, as the letter tucked inside the book reveals. The typewritten page, dated June 6, 1973, was written by Charles W. DaParma, chairman of the school's Classics Department and a mentor to me through most of my time there:
Enclosed is the first book I ordered when appointed chairman too many years ago. Despite all the library stamps on it, it belongs to the Classics Department. (Fr. McAleer [the school librarian] always stamps books ordered through him with his own memorabilia, in hopes, perhaps, that the chairman will neglect to pick them up.) Upon receipt of this first book, I promptly ordered another for the next year, and it is that text which is currently available in the Prep's Classics Library. I have sort of adopted the enclosed for personal use and to forestall the department's being without it should someone walk off with the library text.
That such an assemblage of classical learning had enough utility in a Bronx high school to require being kept close to hand seems a strange notion today, but Mr. DaParma, or C.W.D., as he was known throughout the community, inhabited several time zones, as people steeped in the classics often do. His stance toward students and colleagues alike was a model of bygone etiquette, made current by his never-failing presence of mind and a rapier wit, the edge of which would be honed on the spot to prod or sting or divert depending upon the audience. He dressed most days in impeccably tailored suits, the jackets sporting jauntily but not ostentatiously wide lapels, the knots of his ties exuding a kind of pleasure in their neatness. When not in front of the classroom, he moved an endless stream of Carlton cigarettes from ash tray to lips via long, well-manicured fingers. I can imagine him in the afterlife making his way toward Paradise by script-doctoring productions of Pride and Prejudice, The Importance of Being Earnest, and The Thin Man in Purgatory.
In any case, his instruction was inspiring to me, his manner of delivering it—gracious, precise, droll—a lesson in how learning might be worn as well as won. If I would soon become remiss in my attentions to Latin and Greek, cavalier in the way I employed the classical legacy I was lucky enough to have encountered before it faded from the educational scene entirely, I never lost sight of the exemplar C.W.D. set, no matter how far short of its modus operandi I fell myself. The older I've grown, the more his gift to me—and to, no doubt, hundreds, if not thousands of other boys through his three decades of teaching—has come into focus.
"Wouldn't 'perspective' be better than 'focus' there?" I can imagine C.W.D. annotating that last sentence. "Yes," I have to murmur, "It would." Perspective is one of the graces that comes with age, after the will has been humbled by the quiddities of what we can't control. ("Would 'fate' be stronger than 'quiddities of what we can't control'? It's what you mean, I think." "Yes," I'd have to say again, afraid to admit I didn't want to stare that particular four-letter word in the face.) I wish I had been able to express my thanks to him for what I see now has been his quiet but persistent legacy, but he died in 1980, a few decades before I had the vision to see with the clarity of gratitude into my youth.
So I'm left to make an offering to this Harper's Dictionary, as ancient in its way as any book I own, which Mr. DaParma bestowed on me in my final days of high school. "Since last Christmas," the message that accompanied it continued,
I have been trying to come by a third copy for you and recently met with success. Unfortunately, we'll have to wait three months for the new "reprint" copy. This presents no problem, except for me, who wanted to give a "new" copy to you, not for today, but for three years. So please accept this dog-earned gift from me, to be replaced in three months by a spanking new copy, courtesy of the chairman.
The substitution never came, a fact for which I'm glad. When it comes to books, and learning generally, the spanking new never proves as valuable as the venerable. I've kept the dog-eared copy close for nearly fifty years now, and it speaks to me, in Charles DaParma's courteous and cultivated voice, even when I am not listening. Which is what all good teachers do, for their faith in the future outlives the disappointments of the past and present that can pile up to—almost—bury us.
_______
More of A Classical Education:
< Back to Reader's Diary